Promoting your work
We understand that you can't beat selling your work and to improve exposure and sales, Redbubble have a couple of different ways you can spread the word about your excellent designs.
Sharing your Portfolio on Facebook
Social Media and linking to other websites?
Tagging your work and adding descriptions
How to Utilise Widgets
Help from the Redbubble Community

Sharing your Portfolio on Facebook
In order to share your work, or promote a discount, on Facebook all you have to do is:
Copy the address of your Redbubble portfolio - http://www.redbubble.com/people/**USERNAME**/portfolio

Paste it as a status update to Facebook

Replace that boring old Internet address with a sharply written, charmingly charismatic, and humble message that influences your fans, friends, and families to purchase your swag. If a discount is being offered here's the place to shout it.

You'll notice that an image featuring one of your many wonderful works has populated. Click one of the handy arrows to find the work that best highlights all that makes you the unique snowflake of an artist that you are.

Click "POST" and wait for the fortune and fame to come rolling in.
Social Media and linking to other websites
We would suggest actively marketing your own work both onsite and offsite. Some people have success using various social network sites such as Facebook, Twitter, Tumblr and Instagram. If you have found some inspiring artists in our community why not check and see what they have done with external marketing. They are a great resource to tap into and learn from.
Redbubble make it easy for people to share your work with their friends via the 'share' button on each design page. This can drive traffic to your designs via Facebook, Pinterest, Twitter and Google Plus.



To keep your own social network in the loop with your Redbubble activity, you can also directly link your profile to your Facebook account. This allows automatic posting to your timeline when you add a new work, add a work to 'favourites', start following someone, or comment on a design.
To connect your Redbubble account to Facebook, simply navigate to the 'Connect with Facebook' page via 'Account Details', and click the blue button.
You can also add links to your profile page for various other websites - Flickr, Behance, Instagram, Dribbble etc. - by entering these URLs in your 'Link to Other Sites' page.



Tagging your work and adding descriptions
Customers may not be able to find your work if it's not tagged correctly. Ensuring that you've got accurate and comprehensive keywords associated with your designs is an excellent way of increasing traffic to your designs, as well as improving the quality of this traffic.
General terms such as 'cat' are useful, however you can also get more relevant traffic by entering more specific search terms. We have some more detailed information on tagging on our 'Tagging your Work' article.
As people will also find your designs via Google, it's important to have a description on your work to improve your search engine results for relevant keywords.
How to Utilise Widgets
If you'd like to share your work on your own website, we have sales widgets that you can embed in the page. You simply have to add the pre-generated HTML code into your own site.
You can access the code via your 'Account Settings' page by clicking 'Promote'.
Help from the Redbubble Community
If you'd like some more information from fellow Redbubble members, you can check out our Sales and Marketing forum. There is also a very helpful FAQ that is worth visiting where some of favourite Best Selling Tips shared by other artists.
The Redbubble Blog also has some great tutorials for designers and how promotion can work for you.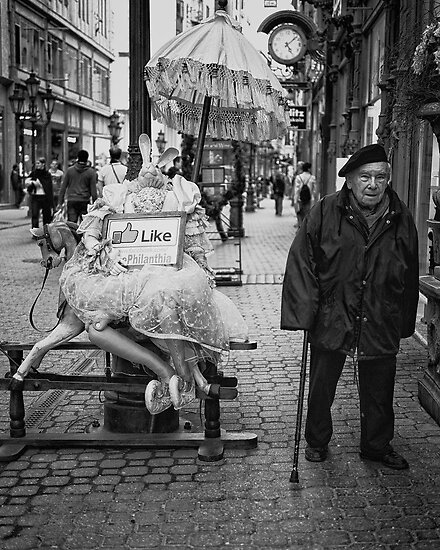 "Like" by Abtin Eshraghi